By Rene Gonzalez
In August 1962, I was an ordinary Cuban child who had just turned eight years old. I can still remember the commotion all over Havana after someone sailed a boat to within a mile of the city's coastline and fired a cannon at a hotel. They then turned north and headed for safe haven in Miami.
That experience repeated itself for me and for my four comrades, who are still in US prisons, as I was until recently. The five of us grew up in Cuba, witnessing the kidnapping and assassination of Cuban fishermen, and the culprits would then return to their safe haven in Miami. A gunboat crew attacked and killed the crew of a Spanish freighter off the coast of Cuba and then returned to their safe haven in Miami. In 1976, two terrorists of Cuban origin, after having organized the bombing of a Cubana airliner which killed 73 people, found safe haven back in Miami. Twenty years later, one orchestrated a bombing campaign against Cuban hotels, which cost the life of an Italian citizen.
Detalles

Publicado: Sábado, 07 September 2013 13:48
Saturday 14 September, 12 to 3pm
Outside Angel tube Station (northern line)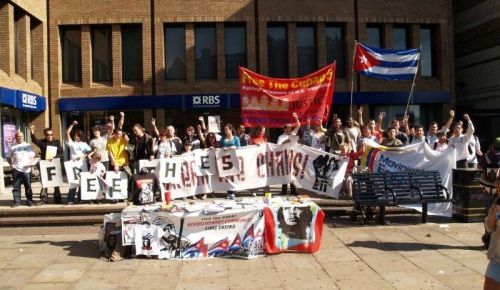 The Cuban Five, Gerardo Hernández, Ramón Labañino, Antonio Guerrero, Fernando González and René González, are five Cuban men who are unjustly imprisoned in the United States after being arrested by the FBI on 12 September 1998 and convicted in US federal court in Miami in 2001, in a political prosecution by the US government.
This September marks 15 years since their arrest.
The Five were falsely accused by the US government of committing espionage and conspiracy against the United States, and other related charges.