Detalles

Publicado: Martes, 29 September 2020 14:35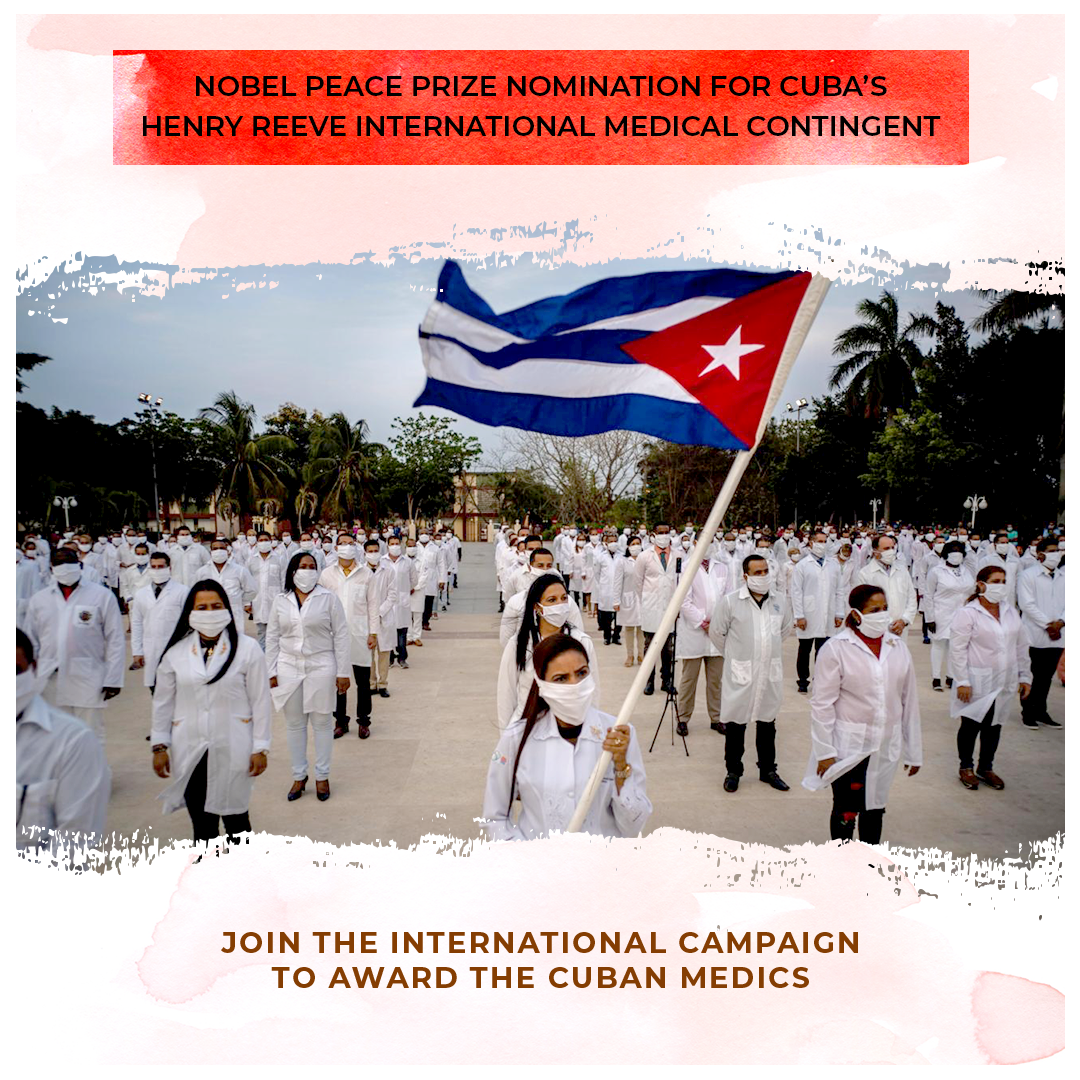 Dr Helen Yaffe is a Lecturer in Economic and Social History and the University of Glasgow, and author of the recently published book, We Are Cuba! How a Revolutionary People Have Survived in a Post-Soviet World, Yale University Press, 2020. She adds her voice to the growing international call for the Cuban medics to receive the Nobel Peace Prize.
---
Nobel Peace Prize nomination for the Henry Reeve International Medical Contingent
In Cuba's Henry Reeve International Medical Contingents, the foundational aspirations of the Nobel Prize are met: 'those who have done the most, or the best work for fraternity between nations.'
The Covid-19 pandemic has seen the international community fracture; Cuba's Henry Reeve International Medical Contingent has offered a counterexample, exemplifying the benefits of global healthcare cooperation. On 21 March 2020, 10 days after the World Health Organisation declared the SARS-Cov2 virus to be a pandemic, 53 Cuban medics, specialists in disaster response and disease control, arrived in Lombardy, Italy, at that time the epicentre of the pandemic, to assist local healthcare authorities. They were the first brigade of the Henry Reeve Contingent formed specifically to combat Covid-19 overseas, and the first to provide medical assistance in Europe.
By 22 September, the Henry Reeve Contingent had sent 3,700 Cuban medical specialists, organised into 46 medical brigades, to treat Covid-19 patients in 39 countries. In 5 months, these Cuban healthcare professionals, 60% of them women, had treated over 350,000 people, saving nearly 10,000 lives. No other country in the world, much less the wealthy nations, has provided anything like the assistance that Cuba has offered by sharing its epidemiological specialists and expertise with people around the world. Most of the beneficiaries of Cuba's Henry Reeve brigades are poor people in developing countries, who have been left behind in the unseemly scramble by the rich nations to secure themselves PPE, ventilators, drugs and vaccines. Cuba has mobilised resources to offer this assistance despite the deterioration of the island's economy; the US has tightened sanctions, generating serious shortages, and even blocked Cuban access to the ventilators and PPE needed to fight Covid-19 at home.
The Covid-19 pandemic teaches us the importance of international collaboration in a world so globalised that all our lives are intertwined. It teaches us that public health is a priority; a precondition to peace and security. A Nobel Peace Prize would reflect a new global awareness about the importance of healthcare & solidarity.