Detalles

Visto: 5126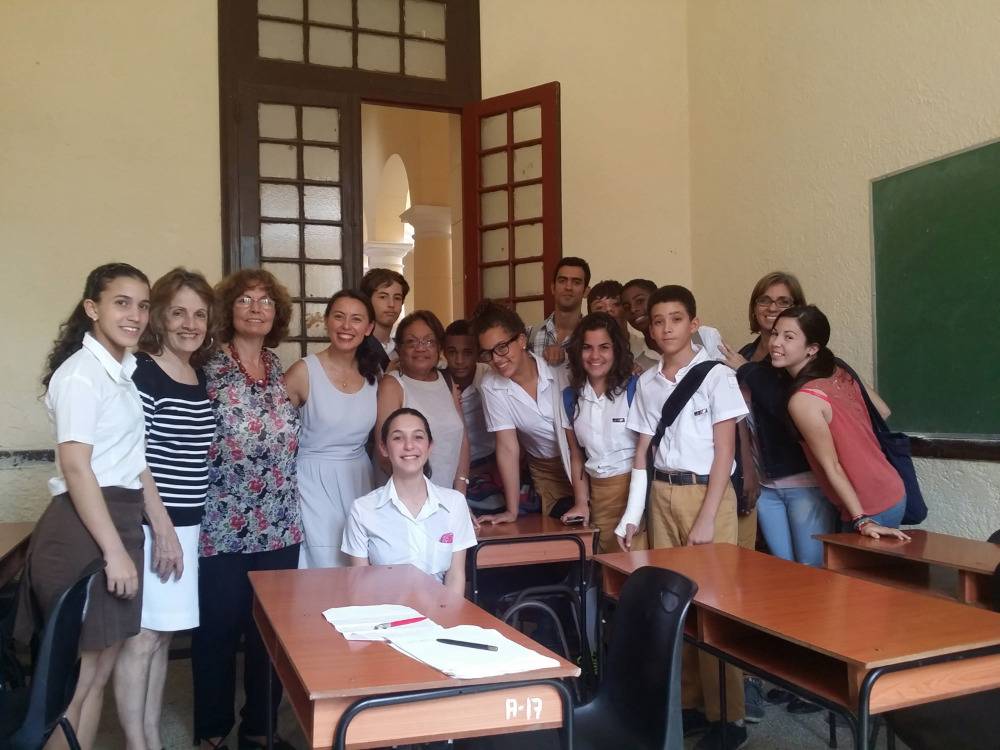 Fotos de Magdalena Hirsz, pianista y profesora,del Institut Frédéric Chopin
El pasado de 12 de Marzo 2016 Cubanos en UK* junto con la pianista cubana Eralys Fernández se organizó un concierto benéfico de música clásica con el objetivo de recaudar fondos para comprar un piano y enviarlo como donación desde Londres al Conservatorio Amadeo Roldán en la Habana.
Para ello abrimos una cuenta en - eventbrite.co.uk y logramos vender 36 tickets online equivalente a £360 libras esterlinas. Eventbrite es la mayor plataforma de autoservicio de venta de tickets del mundo, con sede en varios países incluyendo el Reino Unido. Esta plataforma permite a los usuarios, buscar, vender y comprar tickets para eventos.
Unos días después del concierto recibimos el siguiente correo:
…estoy escribiendo para darle seguimiento de su pago del evento "A piano for Cuba - Fundraising Classical Music Concert" Concierto benéfico de Música Clásica – Envía un piano a Cuba. Este mensaje es para notificarle que fuimos contactados por nuestro banco para hacernos saber que el pago que se inició el 17 de marzo 2016, de £360.00 ha sido retenido temporalmente. Nuestro banco nos informó que con el fin de procesar el pago, requirieren de información adicional. Con el fin de emitir su pago tan pronto como sea posible, por favor, responde a este correo electrónico e incluye la siguiente información:

Por favor, indique si esta transacción beneficiaría directa o indirectamente a Cuba o a algún cubano…
Es evidente al leer el título y descripción del concierto cual sería el destino del dinero recaudado en este evento.
Estamos orgullosos de ser cubanos, pero también somos ciudadanos británicos. Los términos y condiciones de Eventbrite no dice específicamente que los cubanos, que viven fuera de Cuba y aquellos con nacionalidad diferente de la cubana no puedan utilizar este servicio.
Después de varios intercambios por correo con Eventbrite confirmaron lo siguiente:
…Nuestro banco ha notificado que el pago correspondiente a su evento ha sido bloqueado conforme a las regulaciones y programa de sanciones de la Oficina de control de Activos Extranjeros de Estados Unidos - OFAC [del Departamento del Tesoro de los Estados Unidos]

Para poder proceder con el pago requerimos de una licencia del departamento del Tesoro de los Estados Unidos…la cual ustedes deben solicitar
No tenemos una licencia de OFAC y tampoco pensamos solicitarla. Hacerlo significaría legitimar más de 55 años de bloqueo de Estados Unidos hacia Cuba, lo cual ha costado desde su implementación en 1962 unos 833 mil 755 millones de dólares.
Somos cubanos y no necesitamos licencia para ayudar a nuestro propio país, mucho menos para enviar ayuda desde el Reino Unido. Es extraordinariamente intrusivo de la OFAC regular cómo o dónde los británicos, cubanos o cualquier otro ciudadano puedan gastar su dinero.
Hemos vendido entradas al público británico en libras esterlinas, no en dólares estadounidenses. Lo más lógico sería que Eventbrite.co.uk en el Reino Unido cumpliera con la regulación británica - que no incluye ningún tipo de sanciones contra Cuba - pero esto no parece ser el caso, sino mas bien una violación de la soberanía británica.
En diciembre de 2015, Lord Hutton, presidente de "Cuba Initiative", una organización bilateral independiente, para promover las relaciones entre Cuba y Gran Bretaña hizo la siguiente pregunta al departamento del Tesoro británico:
"… ¿qué recomendaciones se han dado a los bancos del Reino Unido con respecto a transacciones comerciales y financieras personales entre individuos del Reino Unido o las empresas registradas en el Reino Unido y contrapartes cubanas radicadas en Cuba? '
Respuesta:
…El Gobierno de Su Majestad notifica al sector financiero del Grupo de acción financiera contra el blanqueo de capitales (FATF) decisiones de enlistar países y los riesgos asociados a las transacciones con los países identificados. En octubre de 2014, el Reino Unido dió la bienvenida al progreso significativo de Cuba en la mejora de sus controles y señaló que Cuba ya no estaba sujeta al proceso de monitoreo del FATF. Esto también fue comunicado a la industria. No existen regímenes de sanciones del Reino Unido, la UE o la ONU que restrinjan las transacciones entre el Reino Unido y Cuba.

Los EE.UU. mantienen sanciones económicas contra Cuba. Sin embargo, la Legislación de la Unión Europea (Reglamento (CE) nº 2271/96) proporciona protección contra y contrarresta los efectos de la aplicación extraterritorial de las sanciones de Estados Unidos en Cuba dentro de la UE.

El Gobierno no proporciona asesoramiento sobre los regímenes de sanciones fuera de la jurisdicción del Reino Unido y no interviene en las decisiones de los bancos u otras entidades financieras cuando se hace sobre la base de sus evaluaciones de riesgo internos…
La retención del pago a Cubanos en UK por parte de Eventbrite es una evidencia clara de la continuidad del bloqueo de EE.UU hacia Cuba, a pesar del intento de acercamiento entre los dos países. Una muestra del carácter extraterritorial de la política de EE.UU hacia terceros países, lo cual no solo afecta a los cubanos sino también viola los derechos de cualquier ciudadano en el mundo que intente usar un servicio "global" de EE.UU en beneficio del pueblo cubano.
Este hecho demuestra la continuación de una política fracasada, la cual rechazamos y exigimos su cese inmediato.
Otras organizaciones en Gran Bretaña y Europa también se han visto afectadas, el pasado año dos campañas de solidaridad con Cuba fueron víctimas de las leyes del Bloqueo. PayPal bloqueó la cuenta de Rock Around the Blockade y el banco británico The Co-operative Bank cerró la cuenta de Cuba Solidarity Campaign, ambas organizaciones con sede en Gran Bretaña. El caso mas reciente se conoció hace algunas semanas cuando, El Tribunal Regional de la ciudad de Dortmund, Alemania, sentenció a Paypal a pagar una multa de 250,000 euros si no desbloquea de inmediato la cuenta de Proticket, una agencia alemana proveedora de tickets quien vendió a finales del año pasado entradas para la comedia musical 'Soy de Cuba' un concierto de la cantante cubana Addys Mercedes.
Cubanos en UK continuará recaudando fondos para enviar un piano a Cuba y pedimos a todos los amigos de Cuba solidarizarse con este proyecto, por favor contacta a eventbrite.co.uk y demanda que el dinero del concierto: A piano for Cuba – Fundraising Classical Music Concert, sea desbloqueado.
Detalles de Contactos de Eventbrite: www.eventbrite.co.uk, Esta dirección de correo electrónico está siendo protegida contra los robots de spam. Necesita tener JavaScript habilitado para poder verlo., twitter.com/EventbriteUK, www.facebook.com/EventbriteUK, Llamar gratis desde Inglaterra: 0800 652 8399 )
Daniesky Acosta
Director de Cubanos en UK
Londres, 12 de mayo 2016
*Cubanos en UK es una organización sin fines de lucro, una asociación voluntaria de cubanos y cubanas residentes en el Reino Unido.
www.cubanos.org.uk