Detalles

Publicado: Domingo, 01 September 2013 14:32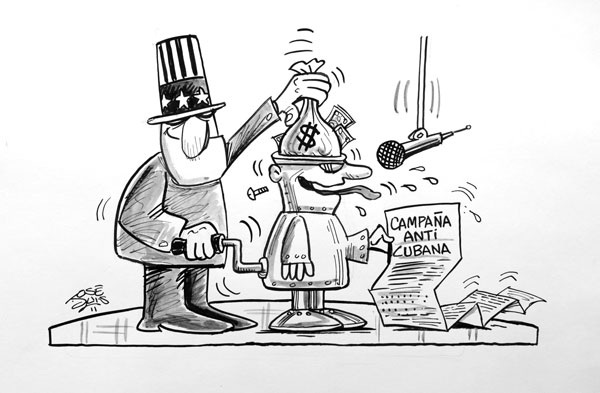 Yet more proof, if any were needed, to confirm just how much of US taxpayer's money is wasted by groups purporting to help bring Democracy to Cuba has been posted by Tracey Eaton on his blog Along the Malecon. He provides this link to the USAID website that details how much and to which organisations the millions of dollars are distributed each year. Some websearching provides illuminating reading.
For example, in 2013 more than $490,000 was given to an organisation called the Grupo de Apoyo a la Democracia based in Coral Gables Florida. This grupo does not seem even to have a website of its own but the Guardian informs us that in 2006 it was criticised for spending its money on: "computer games, cashmere sweaters, crabmeat and expensive chocolates"
Another recipient is the Pan American Development Foundation, an organisation that was set up by the Organisation of American States. This parent would surely be embarrassed to learn that its child received more than $720,000 to promote civil society in Cuba, yet its own website does not report that it has had any success in doing so. There does not appear to be any information on its Cuba work at all.
Then there's the National Democratic Institute, which received $447,000, and which it spent, according to its website, on promoting: "international awareness of the activities of Cuban democratic activists by conducting outreach to political and civic leaders, and international organizations around the world to provide recognition, support and solidarity for those struggling peacefully for democracy on the island." Well that's not exactly "providing support for Cuban civil Society" which is the stated purpose of the programme on the USAID website. In fact, if you read that carefully, it does not say it spends any of the money IN Cuba at all.
It's a gravy train pure and simple, the money does not go to helping Cuba. It is a scandal and a huge rip off of the American people and ought to be stopped.
By Steve
(The Cuba Bug: thecubabug.blogspot.co.uk)