Detalles

Publicado: Domingo, 06 May 2018 21:45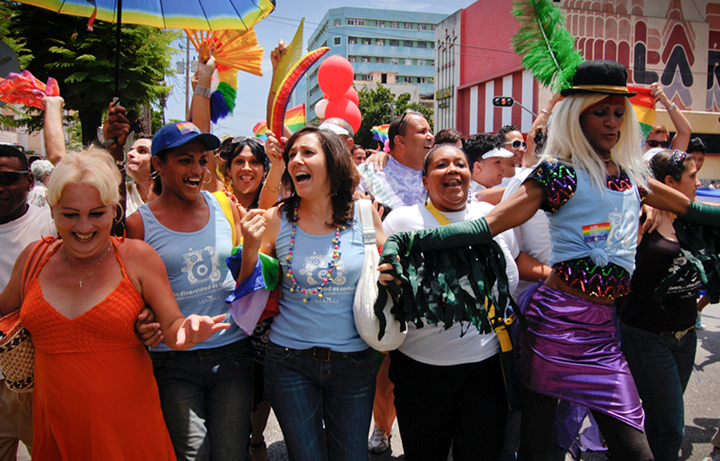 LGBT rights depend on "the continuity of the Communist Party's policies that they have been developing" with the Cenesex, Mariela Castro said.
Mariela Castro, long-time LGBT rights activist and daughter of Cuba's former President Raul Castro, says she will propose same-sex marriage among the Caribbean island's next constitutional reforms.
"We have new proposals that do not consist of drafting new laws and are working on modifications of laws that already exist in our constitution so that they are more expeditious, such as marriage between people of the same gender," said Castro, a national representative and director of the National Center for Sex Education (Cenesex).
Castro made the announcement during a press conference Friday, the 11th Annual Day Against Homophobia and Transphobia, when she spoke about several issues regarding LGBT rights on the island.
Manuel Vazquez, vice-director of Cenesex, said they will use Castro's position as a representative to promote a law that doesn't specify marriage must be between a woman and a man.
The constitutional reform in Cuba has been suggested for years and, during his farewell speech on April 19, former President Raul Castro said the process to change the constitution will begin next July.
Mariela also spoke about the need for tougher sanctions on violence and homophobia in criminal and family laws. In 2013, she was the only congress member who voted against the Labor Code project for not being decisive enough against LGBT discrimination.
She said that both the Communist Party and the government support education programs regarding LGBT rights, but said they asked Cenesex to "go slowly, taking into account prejudices."
"There's been resistance coming from many places," Mariela said. "They told us to keep on educating so there would be a greater consensus at the moment of legislating."
She has said before that there has been little advance in LGBT rights in the assembly due to a historically patriarchal and homophobic society.
Speaking about Cuba's new president, Miguel Diaz-Canel, Mariela said he has proven to be sensitive towards LGBT rights on the island.
"It's a young man that had the Cenesex among his responsibilities since he was an officer at the Communist Youth Union (UJC), so he has formally trained on the issue. So, when he became the party's secretary in Villa Clara, he was trained on the topic."
When Diaz-Canel was secretary of the Communist Party in the Villa Clara province during the 1990s, he supported and defended the 'El Mejunje' cultural center, which has become a landmark of the LGBT community and artists.
Mariela also said that her mother, Vilma Espin, "took a lot of care in training these UJC leaders in inclusiveness themes. It worked on some and it didn't on others, but it did in Diaz-Canel's case.
"We're lucky to have someone that has already been sensitized, but also my dad was sensitized and educated by my mom. That's why he started processes to reach consensus and made this topic to be understood within the Communist Party of Cuba."
Mariela also made clear that the plans on LGBT rights don't depend exclusively on current leaders, but rather on "the continuity of the Communist Party's policies that they have been developing" with the Cenesex.
Activities related to the Annual Day Against Homophobia and Transphobia will continue until May 18 in Havana and Pinar del Rio. This year's event is focused on promoting tolerance and inclusion in schools and teaching children to fight prejudice.
Source: Telesur