Detalles

Publicado: Viernes, 18 March 2016 23:30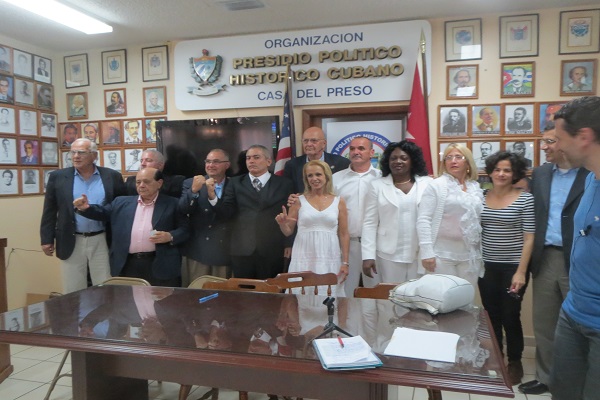 Berta Soler together with notorious terrorists in the Casa del Preso in Miami
Following the public announcement about the visit to Cuba by the President of the United States, Berta Soler travelled to Miami to receive instructions from her bosses in the anti-Cuban mafia about what actions the Ladies in White should take during Obama's trip.
Among those instructing the leader of the Ladies in White in 'civil disobedience' were no less than terrorist experts Santiago Álvarez, Fernández Magriñá, Orlando Gutiérrez Boronat y Rodolfo Rodríguez San Román.
In a meeting held in the so-called Casa del Preso [Prisoner's Home], these experts – old collaborators with the Bin Laden of the Americas, Luis Posada Carriles – set out a programme of provocations for the 'pacifist' Soler, to be executed days prior to the North American President's visit.
According to those mafia instructors, Berta Soler and her Ladies should organise counterrevolutionary acts in places such as the National Assembly of Peoples' Power [Cuba's Parliament], Revolution Square and others places with special significance for Cubans.
In those actions, the Ladies in White should offend Presidents Obama and Raul Castro, spreading subversive propaganda and instigating violence and disorder, testing the patience of the authorities.
An essential part of the programme designed by the terrorist mafia in Miami would be to carry out a march from Santa Rita park to the United States embassy in Havana on 20 March.
Since January, several mercenaries have received training in Florida International University in sabotaging the North American president's visit to the island.
The ultimate objective of the Ladies in White programme of actions against Obama's visit to the island is generating negative media coverage which lends support to their financiers who oppose the reestablishment of diplomatic relations between Cuba and the United States. Among them are US members of Congress Ros-Lethinen y Mario Díaz-Balart, with who Soler also met during her recent visit to Miami.
The anti-Cuban mafia, which sends $17,000 monthly to the so-called Ladies for their activities, oppose the US government's new policy because it will bankrupt the Anti-Cuban industry which has flourished in Florida for half a century. (MHL)
Source: Cambios en Cuba