Detalles

Publicado: Miércoles, 16 April 2014 22:47
A scandalous video with false images of Cuba was presented by the NGO UN Watch during the so-called VI Summit for Human Rights and Democracy held in the International Conference Centre of Geneva, Switzerland.
The video is part of the ongoing campaign of UN Watch, an NGO known as "The Trojan Horse" of the CIA in Geneva, aimed at achieving that countries such as Cuba, China, Saudi Arabia and Russia, stop being members of the United Nations Human Rights Council.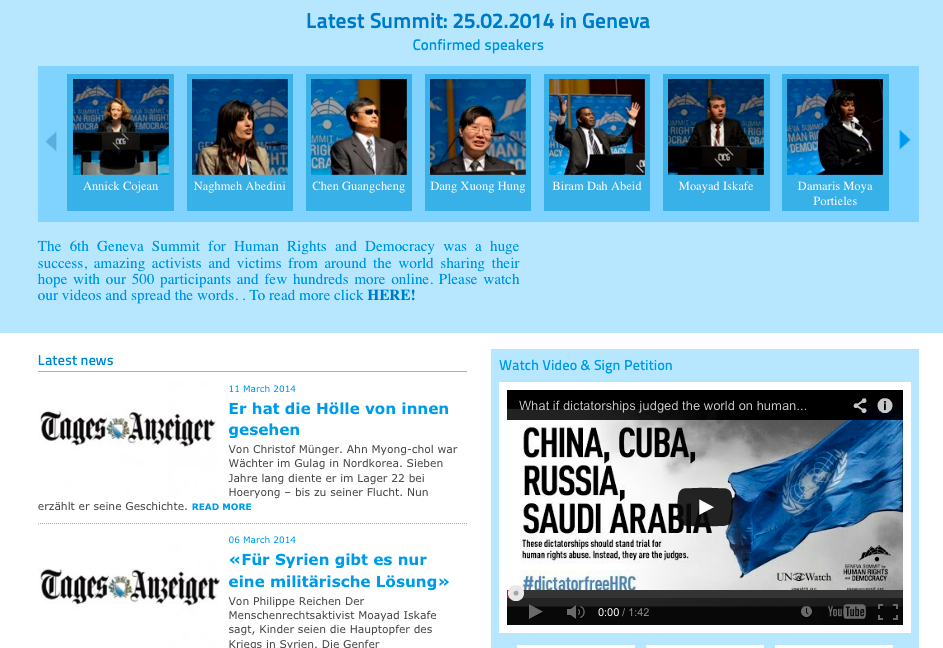 Geneva Summit for Human Rights and Democracy website.
During its presentation at the Summit, the UN Watch NGO, through its director Hillel Neuer, showed false images of Cuba where riot police officers appear beating some supposed Cuban young persons who are seated on the street shirtless.
Next they publish some images of about twenty of the so-called Ladies in White, women paid by the United States who were marching peacefully down a street of Havana and mix them with another group of women who have nothing to do with the Ladies in White.
Not a single police officer or a single image of repression presented by UN Watch corresponds to Cuba. Every person having lived of visited the Island knows very well that those images do not correspond to the Caribbean country. Cuban police officers wear neither those uniforms, helmets, nor those riot shields... to read more click here...
Cubanos en UK, has indentified the source of footage falsely attributed to Cuba by UN Watch:
It was incorporated into this Cubainformación video which shows Spanish police violently attacking unarmed Spanish youth sitting on the ground. Ironically, Cubainformación had used the clip in a video exposing the hypocrisy of the Spanish and other western politicians and media who denounce imaginary 'human-rights abuses' in Cuba, while perpetuating them against their own citizens. That video is available here: http://youtu.be/BHQvyifbRfw
We suggest this documentary be seen by UN Watch and multiple other 'humanitarian' organisations which act as fronts for imperialist interests around the world, whilst maintaining silence about the murder and abuse of citizens in the west. In the United States, a black man is murdered by US 'law enforcement officers' on average every 28 hours. Almost every one of the police responsible has got off without prison time or any other punishment. To understand the full horror of the situation see this shocking video by the US-based Party for Socialism and Liberation:
Sources: La Santa Mambisa, Party for Socialism and Liberation , Cubainformación and Youtube