Detalles

Publicado: Jueves, 14 June 2018 22:36
Step into the spirit of Havana at this performance packed with new music by award-winning composers.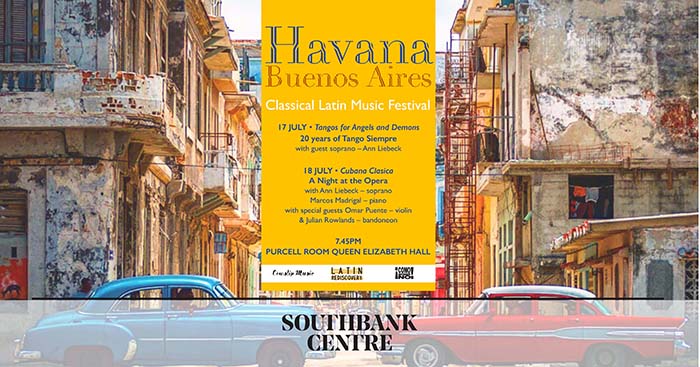 A Night at the Opera in Havana features one of Cuba's most brilliant young concert pianists, Marcos Madrigal, with jazz virtuoso Omar Puente and opera singer Ann Liebeck.
The programme includes two world premieres and two UK premieres, with lyrics from work by master poets Federico García Lorca and Pablo Neruda.
The evening features music by Ernesto Lecuona, Cuba's answer to George Gershwin and contemporary Cuban composers Omar Puente, the LUKAS award winner 2016, and Guido López-Gavilán.
Plus, hear from Grammy Award-winning Cuban composer Yalil Guerra; Grammy Award-winning Argentinian composer Fernando Otero; and tango composer Julian Rowlands, who was Olivier Award-nominated alongside the cast of Midnight Tango.
Performers
Ann Liebeck soprano
Marcos Madrigal piano
Omar Puente violin
Julian Rowlands bandoneon
Facebook: Classical Latin Music Festival Southbank Centre
?
? 17 Jul Tangos for Angels and Demons 20 Years of Tango Siempre- 18 Jul Cubana Clasica-A Night at the Opera in Havana