Detalles

Publicado: Martes, 12 May 2015 12:55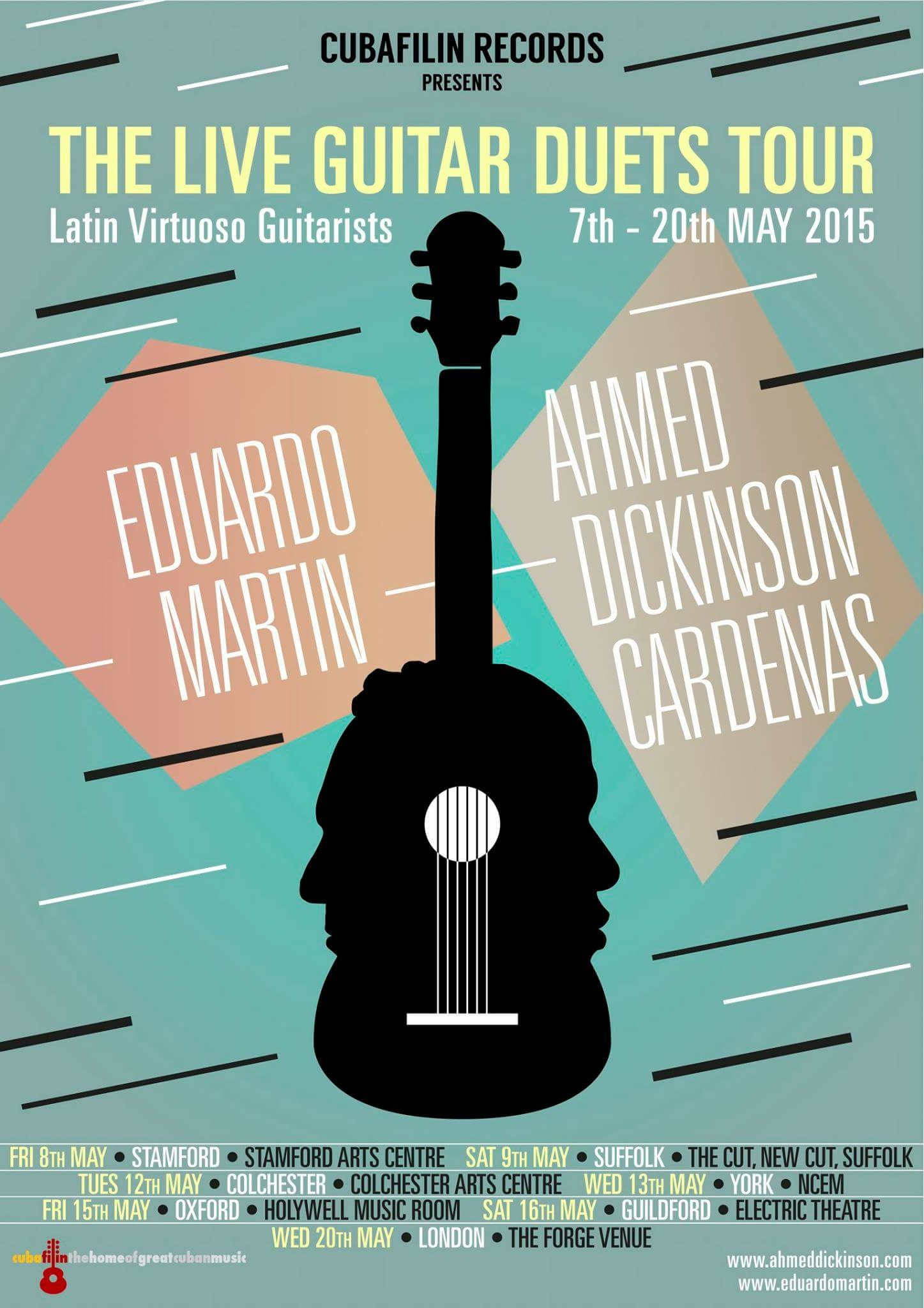 Following a successful London debut in 2014 Grammy nominee Eduardo Martin, one of the most prominent contemporary guitar composers and his former student Ahmed Dickinson- Cardenas hit the UK roads for the first time.
With their uninhibited Cuban exuberance they have created a fresh approach to african, jazz and classical music. Bridging the gap between two generations, these guitar virtuosos transport you to Cuba with their irresistible duets.
Ticket prices: £12.50 / concessions £10 (under 16s, students, job seekers)

General bookings:
http://bit.ly/liveguitarduetstour2015

Tour video:
Dates
8th May - 7.30pm
Stamfords Arts Centre
27 St Mary's Street, Stamford, Lincolnshire PE9 2DL Box office: 01780 763203
Email: Esta dirección de correo electrónico está siendo protegida contra los robots de spam. Necesita tener JavaScript habilitado para poder verlo.
Online booking: http://bit.ly/liveguitarduetsstamford
9th May - 7.30pm
The Cut
New Cut, Halesworth, Suffolk IP19 8BY
Box office: 0845 673 2123
Email: Esta dirección de correo electrónico está siendo protegida contra los robots de spam. Necesita tener JavaScript habilitado para poder verlo.
Online booking: http://bit.ly/liveguitarduetsnewcut
12th May - 7.30pm
Colchester Arts Centre
Church Street, Colchester, Essex CO1 1NF Box office: 01206 500900
Email: Esta dirección de correo electrónico está siendo protegida contra los robots de spam. Necesita tener JavaScript habilitado para poder verlo.
Online booking: http://bit.ly/liveguitarduetscolchester
13th May - 7.30pm
The National Centre for Early Music
St Margaret's Church, Walmgate, York Y01 9TL Box office: 01904 658338.
Email: Esta dirección de correo electrónico está siendo protegida contra los robots de spam. Necesita tener JavaScript habilitado para poder verlo.
Online booking: http://bit.ly/liveguitarduetsncem
15th May - 7.30pm
Holywell Music Room
Holywell Street Oxford, OX1 3BN
Online booking: http://bit.ly/liveguitarduetsoxford
16th May - 7.30pm
The Electric Theatre
Onslow Street, Guildford, Surrey GU1 4SZ Box office: 01483 444789
Email: Esta dirección de correo electrónico está siendo protegida contra los robots de spam. Necesita tener JavaScript habilitado para poder verlo.
Online booking: http://bit.ly/liveguitarduetselectrictheatre
20th May - 7.30pm
The Forge Venue
3-7 Delancey Street, London NW1 7NL
Box office: 020 7383 7808
Emai: Esta dirección de correo electrónico está siendo protegida contra los robots de spam. Necesita tener JavaScript habilitado para poder verlo.
Online booking: http://bit.ly/liveguitarduetstheforge