Detalles

Publicado: Miércoles, 04 September 2013 14:04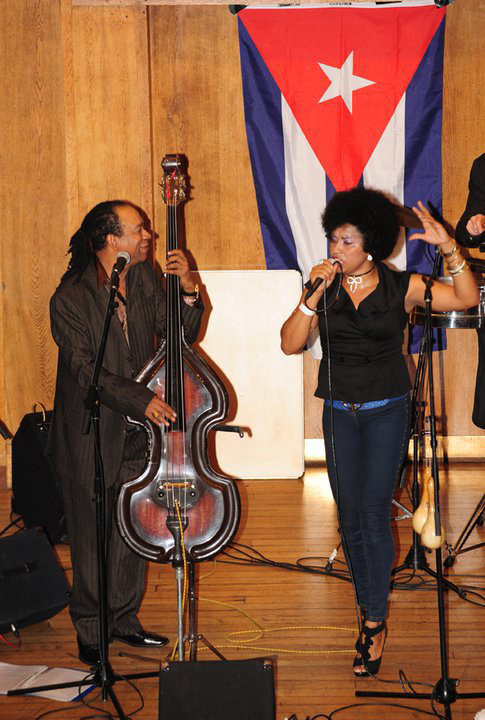 Contact info:
www.reycrespo.com
Esta dirección de correo electrónico está siendo protegida contra los robots de spam. Necesita tener JavaScript habilitado para poder verlo.
The music on Salsa Conga Loca was recorded in Cuba. The songs are passionate and, for the most part, wonderful. Rey Crespo was the musical director on this project and also played the bass. He also is credited with the arrangements. Bertha Pourtuondo and Ismael Perez supplied the vocals with Eduardo Veitia providing the vocals on "Rap de la Conga." The other musicians are David Galindo on piano, Ariel Aja on bells, OPslen Marrero on trumpets, Adrian Elizarde on trombone, Rodolfo (Cuco) Rodriguez on sax, Gabriel Delgado and Amilkar Vazquez on congas and Eduardo Veitia on bombo.
The opening notes of "Fantastica Locura" are a bit rough, but the passion shines through as the song progresses. The choruses of "Conga sin Freno" are more chanted than sung. The chanting blends in more in "Sentiras mi Feugo."
The byplay between solo and group vocals in "Rap de la Conga" brings out the full flavour of the song. From the rough drive of this song you go to the elegance and the gentle melodies of "Querer Olvidarte." The horns shout out in "Que Rica que Beuna" with the piano, percussion and cello providing the underlying melody.
"Sarandeando" has a leisurely pace that fits the music and the delivery of the lyrics perfectly. The tempo picks up for "La Nueva Conga," with the mood building from the previous song. Next comes some evening jazz in "En el Justo Memento," which also has elements that tie it into the other songs.
The music of "Chica Calietne" almost seems rushed at times, especially when compared to the pace of the lyrics. The lyrics of "Y Muevete" change sharply from the verses in the first half to the choruses and the chants of the second half. The music changes to match the lyrics, underscoring the differences. "Porque te Quejas" starts off slowly, then the male vocals take off, providing drive and intensity. Rey Crespo y Su creates passionate music that ranges in style and mood, and while it may have the odd rough patch, those are few and far outweighed by how good the music is at other times.
- Rambles
written by Paul de Bruijn
published 20 November 2004