Detalles

Publicado: Sábado, 24 November 2012 20:25
From: cubadirect.co.uk

"Cuba Direct ® - probably the most authentic Cuba-focused travel company in the UK" ... is this true?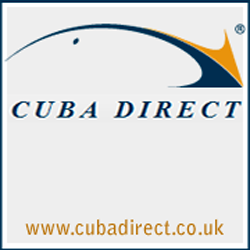 Cuba Direct is the brain-child of Havana-born Miguel Gibson-Galguera. Miguel has a B.A. Hons English Language degree from Havana University but, instead of becoming a linguist, he followed his entrepreneurial instincts to found Cuba Direct in 2002: the first and only UK Travel Company owned and managed entirely by Cubans.
Why Cuba Direct ®?

Miguel explains: I noticed that a lot of the so-called Cuba travel experts did not really understand the country and its culture. A lot of travel companies promoting Cuba - or nearly every "Cuban" bar and restaurant for that matter - fail to understand Cuban culture and traditions. The results? Mojitos with lemon instead of lime and too much ice; spicy food (Cuban food is delicious, but hot it is not!); the Buena Vista Social Club (which we love by the way!) on a never- ending loop, when the Cuban music scene covers everything from the old-time greats singing boleros and ballads, to vibrant hip-hop, rap and reggaeton, via classic salsa. And Cuba is much, much more than Havana and the beaches of Varadero and guadalavaca, though they are enough in themselves. I felt that it was such a great shame that visitors were missing out on all that the real Cuba has to offer, that I decided that it was time for a Cuban to sell Cuba. The combination of authenticity, originality, flexibility and value-for-money are what makes Cuba Direct so unique; which is why Cuba Direct is one of the few fully-bonded Tour Operators recommended by the Cuban Tourism Board.
And last but not the least, we are very proud to announce a new scheme which will make all our flights carbon-neutral by investing in Cuba reforestation plans carried out in conjunction with CITMA (Centro de Innovacion Tecnologica del Medio Ambiente). To make easier for people to go green, all our excellently priced flights will include a small charge as per ClimateCare.org that will offset your CO2 emission.

What can Cuba Direct ® do for me?

Anything and everything! Although Cuba Direct specialises in tailor-made holidays, over the past 7 years we have developed expertise, knowledge and an effective logistical base so that we can provide travel advice and services for the whole range of potential clients: individuals, families, companies and groups.

We have created perfectly tailor-made holidays for: Rugby Groups, Schools, Salsa Promoters, Cigar Aficionados and many others.

You can call us for advice and be assured that you will speak to a REAL expert, most likely a Cuban. But equally if you know exactly what you want, you can use our website to create your dream holiday and book online with complete peace of mind.
For more information visit: www.cubadirect.co.uk