Detalles

Publicado: Sábado, 24 November 2012 19:29
From ahmeddickinson.com
Biography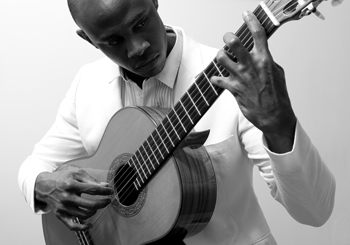 Ahmed Dickinson Cardenas is one of the finest young performers of the Cuban Classical Guitar School. He is a sophisticated virtuoso on his instrument and an ambassador of Cuban culture.
Born in Havana, Dickinson Cardenas graduated from the Superior Institute of Art (ISA Havana) in Guitar for which he was awarded a first-class honours degree, and also graduated a year early. During his years in Cuba, he took part in masterclasses with Leo Brouwer, John Williams, Costas Cotsiolis, Shi Ichi Fukuda, Joseph Urshalmi, Marcos Socias, Gonzalo Salazar and Eduardo Martin. After graduating from ISA, Dickinson Cardenas made frequent festival appearances at Hispano-American Guitar Festival (Mexico), Dublin Guitar Week (Ireland) and Havana International Guitar Festival.
In 2005 Dickinson Cardenas went to England to study with Carlos Bonell and Chris Stell at the Royal College of Music immediately winning prizes at the Royal College of Music Guitar Competition and the Ivor Mairant Guitar Competition. In 2006, supported by The Kramer- Chappell Scholarship and the Mad Hatters Club, he undertook further studies with Robert Brightmore at the Guildhall School of Music & Drama.
Since his arrival in the UK Dickinson Cardenas has been the recipient of numerous awards including Ashley Stewart Arts Sponsorship 2011, Concordia Foundation 2008-2009 and Ivor Mairants 2006.
In the UK Dickinson Cardenas has performed in prestigious venues such as Wigmore Hall, The Sage Gateshead, Union Chapel, Queen Elizabeth Hall, St Martin-in-the-Fields, LSO St Luke's and St James' Piccadilly. He has given live performances on BBC Radio 3 and BBC London. He is both a Live Music Now and Concordia Foundation artist.
Performances at festivals in the last 5 years include London Classical Guitar Festival, Bath international Guitar Festival, The Sage Guitar Festival, Kings Place Music Festival, Cambridge Summer Music festival, Kinsale Arts Week Festival (Ireland), City of London Festival, London Guitar Festival, XI Bolivar Hall, International Guitar Festival, Chester Summer Festival, Ilkley Festival, Halesworth Art Festival, X Bolivar Hall International Guitar Festival, Ards Guitar Festival (Northern Ireland) and Discovering Latin America.
For almost a decade Dickinson Cardenas had the privilege to work closely with the late Cuban guitar composer Jose Antonio (Ñico) Rojas. He single-handedly transcribed, learned and performed most of the old master's unpublished works.
Dickinson Cardenas received two prizes at Cubadisco Awards 2009, Best Instrumental Soloist & Best Instrumental Album for his debut recording paying homage to the late Ñico Rojas. The same album was nominated for Best Artist & Best Newcomer in Songlines World Music Magazine, and Best Album & Best Single at the Latin American Music Awards UK.
Dickinson Cardenas frequently collaborates with outstanding musicians from various musical spectrums. In Havana he led the Cuban Guitar Orchestra (Sonantas Habaneras) for 2 years, conducted by Jesus Ortega. From 2006-2009 he was touring the UK and Ireland with Eduardo Niebla.
Current collaborative projects have resulted in the release of 4 more albums since 2008. In 2010 Dickinson Cardenas' second album "Canciones del Alma" launched with acclaimed Soprano, Laura Mitchell. Laura was awarded the Song Prize at the Kathleen Ferrier Awards 2009 and regularly sings lead roles with ENO, Welsh National Opera and Grange Park Opera.
With Hammadi Rencurrell (Cuban percussion) and Emma Blanco (violin) as Mestizo Ensemble, Dickinson Cardenas toured the UK in 2010 as part of Making Tracks and released the compelling "Havana Suite" in 2011, a recording of music by Cuban composer, Eduardo Martin. The addition of the percussion to works originally written solely for Guitar or Violin and Guitar make this a particularly innovative recording.
Ben Wragg and Dickinson Cardenas have been performing together since 2008 after meeting as Concordia Foundation artists. Their CD, which was released in 2011, combines works from the European Classical tradition with more laidback Argentinian and Cuban music.
In September 2011, Dickinson Cardenas launched his fifth release, appearing with the Santiago Quartet on their debut album of music by Leo Brouwer, Javier Alvarez and Miguel del Aguila. Dickinson Cardenas performs Brouwer's Quintet and Beatlerianas on this most recent release. Santiago Quartet chiefly performs and promotes music by contemporary Latin composers in the UK. Together, they gave the UK premiere of Beatlerianas at St Martin-in-the-Fields in January 2011.
Dickinson Cardenas has been creating considerable media interest in recent times with interviews, reviews and profiles in many publications including Jazzwise, The Sunday Times, Songlines Magazine, Classical Guitar Magazine, Time Out, MUSO and Classic FM Magazine.
For more information visit: ahmeddickinson.com