Detalles

Publicado: Miércoles, 04 September 2013 09:21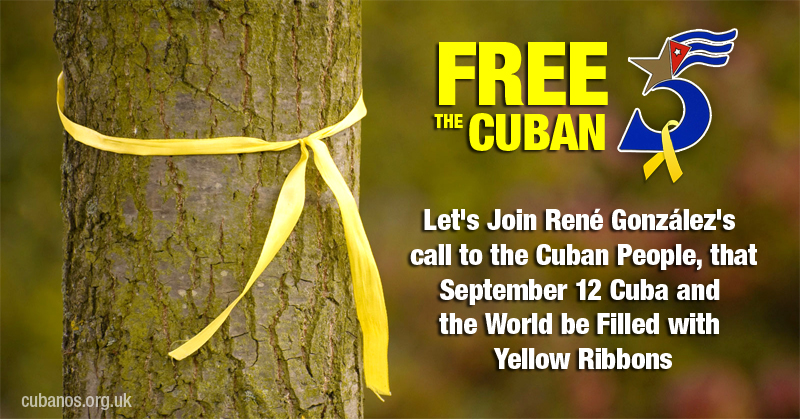 On the 15th anniversary of the arrest of the Cuban Five, the Hero of the Republic of Cuba Rene Gonzalez, has asked his people to saturate the island with yellow ribbons. "My desire is that on September 12 yellow ribbons will appear in trees, on balconies, on people's arms, on their pets or however they want to display it. That way this expression will make it impossible for visitors and the foreign media to ignore the fact that the Cuban people are still waiting for four of their sons who are imprisoned in the United States."

Tie a yellow ribbon round the old oak tree
As we approach 15 years of the incarceration of the Five, it is important for us to reflect once again that these were men who's only mission in coming to the US was to defend their people. We must remember that they have been suffering for 15 years the most elemental violation of human rights including separation from their loved ones, but yet hold no hate or rancor towards the American people who have been denied the truth and even the existence of the Cuban 5.
From the International Committee for the Freedom of the Cuban 5, we call on all people and committees in solidarity with the Cuban 5 to join Rene, the families of the Five and the Cuban people to bring yellow ribbons to all the activities taking place from September 5 to October 6, especially on September 12.
Bringing yellow ribbons to all the marches, rallies, and vigils that will be taking place in the United States and in front of US embassies around the world will be a strong visual expression against an injustice that has gone on way too long.