Detalles

Publicado: Domingo, 10 April 2016 20:29
When guitars and generations combine: Cuban guitarists Ahmed Dickinson Cárdenas & Eduardo Martín launch a new album called The Bridge - BUY HERE

Release date 29.04.16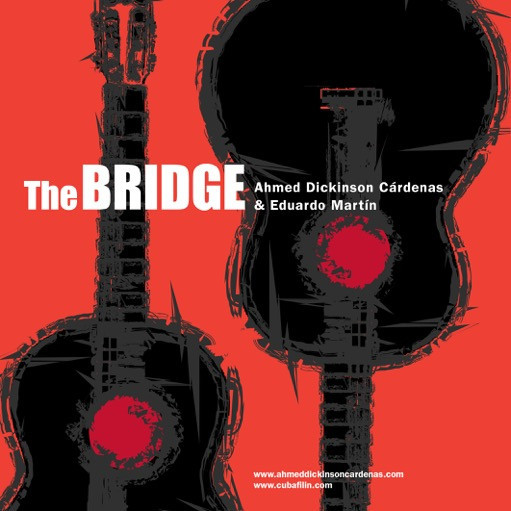 When Cuban guitarist Ahmed Dickinson Cárdenas first heard the music of fellow countryman Eduardo Martín he felt euphoric. Martín's style has an expansive sense of freedom that taps into pre Columbus traditions, jazz, flamenco, pop, Afro and traditional Cuban. The guitar is his favored instrument to mirror the melodic and rhythmic intricacies of the Americas' cultural diversity.
Before moving to England, Dickinson Cárdenas took lessons with Eduardo and their friendship, idiosyncratic empathy and mutual respect has since transformed into a vehicle that connects, incorporates and juxtaposes their different generations, their musical ideas and ultimately the spiritual journey that drives this unique record.
The album is a compilation of some of Eduardo's most alluring works for two guitars, where rock merges with son montunos; old Yoruba chants, feel-good rumbas, funk- boleros, new age tunes and cinematic pieces sit alongside Cuban tumbaos with slap bass.
The Bridge is a wondrous display of fluidity, a continuous study of the Latin guitar, past and present.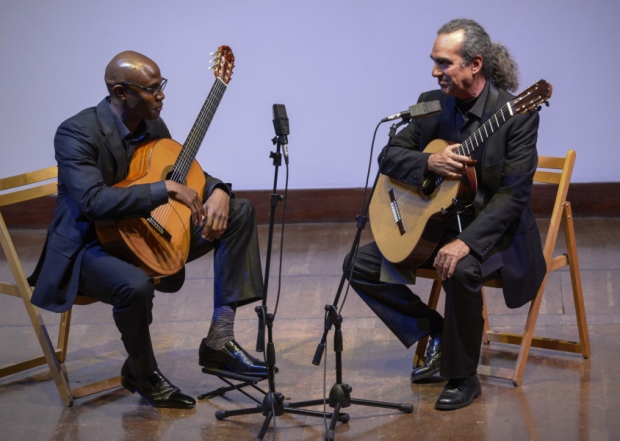 SONES Y FLORES - Sones and Flowers
Recreates the evolution of Cuba's most famous musical genre, the son montuno, starting with its basic rhythmic patterns and sonorities from when it was born at the end of 19th century. It quickly develops into the sounds of son's golden era, between the 20s and 40s, and takes us into the most contemporary approaches where jazz, pop and rock tendencies are added to the mix.
HASTA ALICIA BAILA - Even Alicia Dances
Is a work based on an urban musical genre that originated amongst black working-class Cubans in the late 19th century. Traditionally a vocal piece accompanied by rhythms played on discarded furniture, glass bottles and cutlery, the most popular variation can include several percussion instruments such as congas, claves, chekeré and cowbells. This piece is dedicated to a very prominent and refined Cuban lady who, for a while, only favored western classical music and didn't appreciate the wonderful aesthetics of these intricate Afro Cuban rhythms.
MIRÁNDOTE - Looking at you
Was originally written as a short solo guitar piece, included in a cycle entitled Álbum de la Inocencia (Album of Innocence) and is dedicated to Eduardo's son Dario. This lullaby recreates the thoughts and feelings, the fear, endearment, pride and hopes that a father experiences when watching his toddler discovering the world while playing outside in the garden.
SUITE ANTILLAS
El paso de los vientos (The Path of the Winds) is a recreation of a famously beautiful and treacherous mass of water in the Caribbean Sea where countless ships have sunk due to the hurricanes that have torn through that area. It's a piece of restrained and contained energy. Puesta del sol (Sunset) is based on the impressions made by the beautiful and spiritual landscape that is a sunset on any given day in the Caribbean. The rhythmic patterns and phrases at times insinuate the cadences of bolero and the cha cha cha. Arrecife (Arrecife) is the name of the rock formation that surrounds many Cuban coastlines. It is a sharp, dented and rough surface where marine species seek refuge. This is the most jazz-influenced movement. Suite Antillas was commissioned by the famous Beijing Guitar Duo (Wang Yameng and Su Meng).
SUITE HABANA
Originally for guitar and flute, Suite Havana is one of Eduardo's most performed works. Is a four-part piece that reflects the different colors of a city exposed to the sun virtually all year round. Lugares Comunes (Familiar Places) andAmaneceres (Sunrises) are like many South American pop songs melody wise, while Laberinto (Laberinth) is a more obscure and introspective work. Sol y Sombras (Suns and Shadows) has a more rhythmical approach thanks to the influence of bossa and salsa patterns.
ACRÍLICOS EN LA SONRISA - Acrylics in the Smile
Is the third work in a series of pieces that share the Acrílicos name but that are created with different instrumentation, always using the guitar as soloist. The common denominator of these pieces is the one movement structure, sudden changes in tempo and character, and a strong sense of contrast between their sections. A very eclectic spirit is noted as South American genres are in use along with percussive rhythmic patterns that resemble contemporary dance styles, slap bass notes from other modern styles such as funk and a final section where a more defined traditional Cuban sound appears.
CANCIÓN DE OCTUBRE – October's Song
Belongs to a popular suite for solo guitar titled Canciones del Calendario where Eduardo describes different internal shifts in moods related to the passing of the seasons. This little gem is one of the first pieces ever written by Martín and one immediately notices his inclination for new-age sounds. Eduardo later wrote a new 2nd guitar part so it could be included as a duo in this album.
PRELUDIO, REZO Y CANTO A OBATALÁ - Prelude, Prayer and Chant to Obatalá
Obatalà is a prominent deity in the Yoruba religion, which is still widely practised in Cuba, Brazil and several countries whose cultural traditions developed under the influences of African cultures as a result of the transatlantic slave trade. The Prelude is a recreation of the inherent intricacies of the drumming taking part in the religious ceremonies but in this case the rhythms are devoid of precision. Prayer represents a more accurate representation of these Afro Cuban traditions since the guitars and the voices adopt a close approach to the rhythms and words involved in the rituals; and Chant takes an almost rhapsodic vibe where, true to Martín's style, the music develops into an invocation of diverse genres and sonorities from new-age, funk and jazz.
AGUAS PROFUNDAS - Deep Waters
In the early 90s Eduardo Martín resided in Buenos Aires, Argentina and for a while he was part of a very vibrant musical scene where South American musicians from different genres and styles collaborated. Aguas is the evolution of a 16-bar sequence that he and his former duo partner Maestro Walfrido Domínguez created in one of the jamming sessions they used to participate in within that scene. Later on Eduardo decided to expand this sequence whilst trying to retain the atmosphere and sense of spontaneity characteristic of such bohemian events.
Source: www.ahmeddickinson.com