Detalles

Publicado: Lunes, 09 June 2014 21:50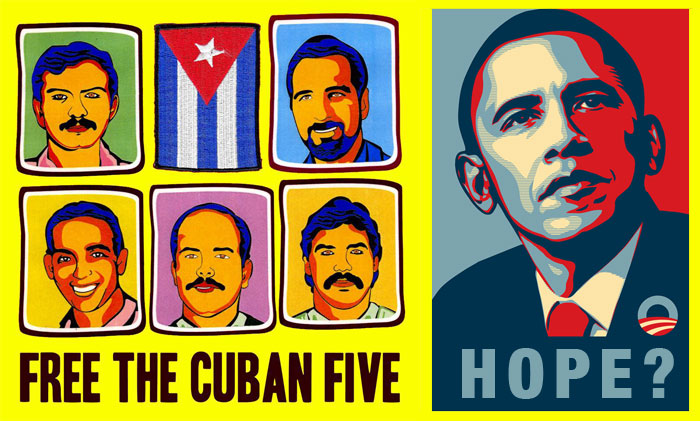 Dear President Obama,
In writing this letter, this group of Cubans resident in the United Kingdom (Cubanos en UK) add our voices to the millions inside and outside Cuba who ask for the release of the remaining Cuban three citizens of the group known as the Cuban Five: Antonio Guerrero Rodríguez, Gerardo Hernández Nordelo y Ramón Labañino Salazar, political prisoners in your country for more than 15 years. These three anti-terrorist Fighters not only protected the lives of Cubans, but also of US citizens who may have been the target of these terrorist actions.
In the last few days a number of activities have taken place in your country, supported by actions in various other countries, to demand the freedom of these Cuban compatriots. There is an abundance of evidence pointing to legal and media manoeuvres involved in securing the injust sentences for the Cuban Five.
In 2009, Libyan Mohmed al-Megrahi, who was serving a life sentence in Scotland accused of the horrific bombing of the Boeing 747 in the air above Lockerbie, was released and returned to his country on compassionate grounds. That bombing killed 270 people, 189 of them US citizens. Mr President you stated that 'all of us here in the United States were surprised, disappointed and angry about the release'. Mr President it can't be difficult for you to understand that the people of Cuba feel the same about the abominable terrorist bombing of the Cuban airlines flight in 1976 which cost the lives of all 73 passengers and crew, including the Cuban national fencing team.
The intellectual author of this terrorist act, Luis Posada Carriles, who has confessed his role, enjoys total freedom and protection in your country. The Cuban Five never committed any violent crime or act of terrorism. They are innocent and we demand their immediate freedom. Mr President, we hope you will use the powers granted to your office and earn your Nobel Peace Prize by ending the injustice in this case.
Your sincerely
Daniesky Acosta
On behalf of Cubanos en UK
June 9, 2014