Detalles

Publicado: Martes, 18 February 2014 14:25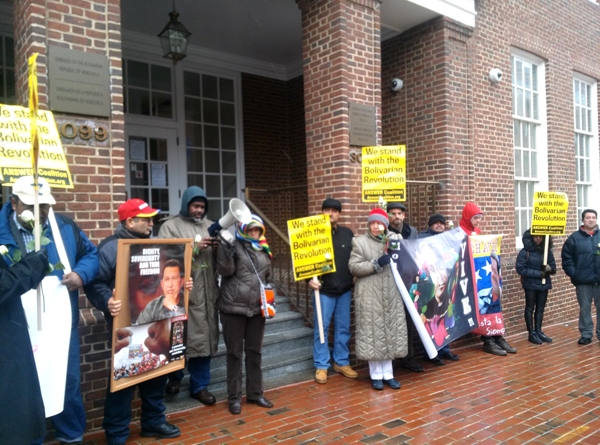 In front of the Venezuelan Embassy - Washington, D.C., Feb. 15, 2014.
A tale of two demonstrations: Eyewitness report
Yesterday (Sat., Feb. 15) at a demonstration in Washington, D.C., the racist, privileged and pampered character of the ultra-right-wing opponents of Venezuela's revolutionary government revealed itself in a grotesque display.
Vividly unmasking the true class nature of the opposition to Venezuela's progressive government, the enraged children of Venezuela's upper classes, who live a coddled existence in Washington, D.C., yelled insults and racist slurs against a multi-racial group of demonstrators who rallied for six hours to condemn the U.S. government and the CIA for trying to carry out another coup against the progressive government led by Nicolas Maduro.
Standing in front of Venezuela's Embassy in the Georgetown section of Washington, D.C., the demonstration was one of many taking place all over the United States in opposition to the CIA's effort to carry out another sabotage and destabilization in Latin America.
"We, the people of the United States, are mobilizing around the country with a simple message: the government of the United States is trying to use the tactics of economic disruption and sabotage to overthrow the Bolivarian Revolution. The U.S. government speaks in our name but we, the people, oppose this policy," explained one of the demonstrators over a bullhorn.
The empowered children of Venezuela's elite went nuts.
"You are Cuban mother****ers" they chanted. Pointing at Black demonstrators, they yelled: "Go back to your homeless shelter." Stylish, well dressed and chic, Venezuela's elite arrived for several hours in expensive cars to conduct a counterdemonstration. They brought a team of four impeccably groomed, small, purebred dogs adorned in costumes, and proceeded to pose for pictures with them.
They reflected the typical arrogance of those who have lived with servants throughout life. They spent their entire time pouring out abuse and hatred toward the rally of working-class people who had come out because they oppose the U.S. government using its vast power in an attempt to derail a revolution that is so clearly benefiting Venezuela's poor.
They called the multi-racial, progressive demonstrators "stupid" and "lazy" and, of course, "communists." Americans fighting for civil rights or an end to the Vietnam War recognize these echoes from our own homegrown right-wing bigots. But the arrogance of Venezuela's affluent community in Washington, D.C., seemed boundless.
These empowered rich kids from Venezuela – who go to Georgetown University, which costs over $58,000 a year to attend – screamed out at the demonstration that was attended mostly by working-people in Washington, D.C., "why don't you get a job" and "who are you" and "go home."
It was a bad showing for Venezuela's upper classes. Even though they were in Washington, D.C., they acted like they owned the place. They are an owning class and they cannot conceal their arrogance. They are convinced that they should always own Venezuela's vast wealth while the majority of the population lives in dire poverty. Why not own the streets of Georgetown too while yelling at working-class people in Washington, D.C., that they should "go home!"
They were dripping with class privilege. These coddled teenagers and twenty-somethings whipped themselves into a frenzy. They gave people the middle finger, and yelled and screamed things such as "Who's paying you?" and "Come over to our side and we'll pay you twice the minimum wage."
They came in shifts so they wouldn't have to stay out in the cold too long. But it was clear that the progressive demonstration was determined to stay. The temperatures were below freezing. There was a stiff wind, making it feel even colder, and snow for part of the time. The numbers of the right wing dwindled and dwindled. At 4:30 p.m., the last of them retreated and the progressive demonstrators raised their signs and banners, and chanted: "The people united will never be defeated."
We encourage everyone to join these upcoming events:
Washington, D.C.: Counter the lies of the right wing at the OAS

Wed., Feb. 19, 11 a.m. to 2 p.m.
Outside the OAS

Washington, D.C.-area organizations are calling a rally on Wednesday, Feb. 19 outside the Organization of American States (OAS) – where the right wing will be having a protest at the same time.
We urge you to join us to defend the Bolivarian Revolution, to denounce the right-wing attacks on the people, and to demand that the United States government stop funding the opposition groups, which are responsible for the violence
(Taken from: ANSWER )