Detalles

Publicado: Sábado, 23 Febrero 2013 16:00
by The LAWG Cuba Team, Mavis, Emily and Karina on February 07, 2013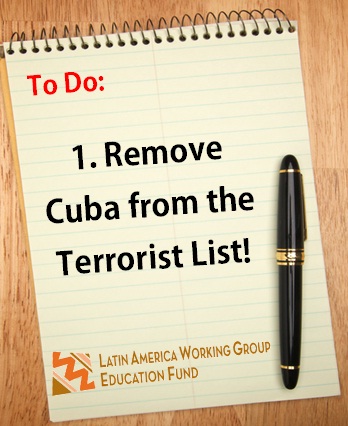 Short and sweet: we want to get Cuba removed from the terrorist list! (Don't know what the terrorist list is? Check out our informational video)
On March 1st, 1982, Cuba was added to the U.S. Department of State's list of state sponsors of terrorism. Why? Because "at the time, numerous U.S. government reports and statements under the Reagan Administration alleged Cuba's ties to international terrorism and its support for terrorist groups in Latin America," says a 2005 Congressional Research Services report.
That was then; this is now. Visit the State Department's website ; the few paragraphs that detail Cuba's designation on the list actually read more like reasons to remove Cuba from the list. Now is the time for the United States to show its sincerity in pursuing a path toward improved relations with Cuba. It's long overdue that we join the rest of the world in recognizing that Cuba is not a threat, but rather a potential partner in the western hemisphere. And if not a partner, then at least not an adversary. Cuba says it is ready and willing to move in that direction. Is the United States? While the majority of U.S. citizens want to engage with Cuba, the White House doesn't seem to be hearing us.
You can help move the White House in the direction of improved relations. Sign our petition asking the President to remove Cuba from the list of state sponsors of terrorism.